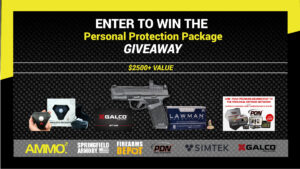 Personal Protection Package Giveaway
(Click Image to Enter)
AmmoSquared has put together the ultimate Personal Protection Package and is giving YOU the opportunity to try and win it! One lucky winner will receive:


​A Springfield Hellcat Pro 9mm.
1,000 Rounds of 9mm Ammunition.
An $800 Giftcard for Galco Holsters.
A One Year Premium Membership to the Personal Defense Network + The Everyday Concealed Carry Considerations 5 DVD Set.
A Simtek Motion Detector for your Personal Safe.