The pursuit of the ideal ultralight rifle for survival and outdoor activities has been ongoing. The perfect firearm should be lightweight, versatile, and efficient in various shooting situations. Josh Supnick, owner of Enhanced Systems, aimed to create an ultralight survival rifle that would meet these criteria after years of experimenting with different platforms.
         Introducing the Enhanced Systems Sidewinder – a game-changing ultralight survival rifle built on the Ruger 22/45 platform. As an avid small game hunter and target shooter on his 40-acre property, Josh emphasizes weight and efficiency. Traditional 10/22 rifles can be inconvenient to carry around, particularly with multiple BX-1 10-round box magazines in your pockets, stabbing you in the thighs as you hike.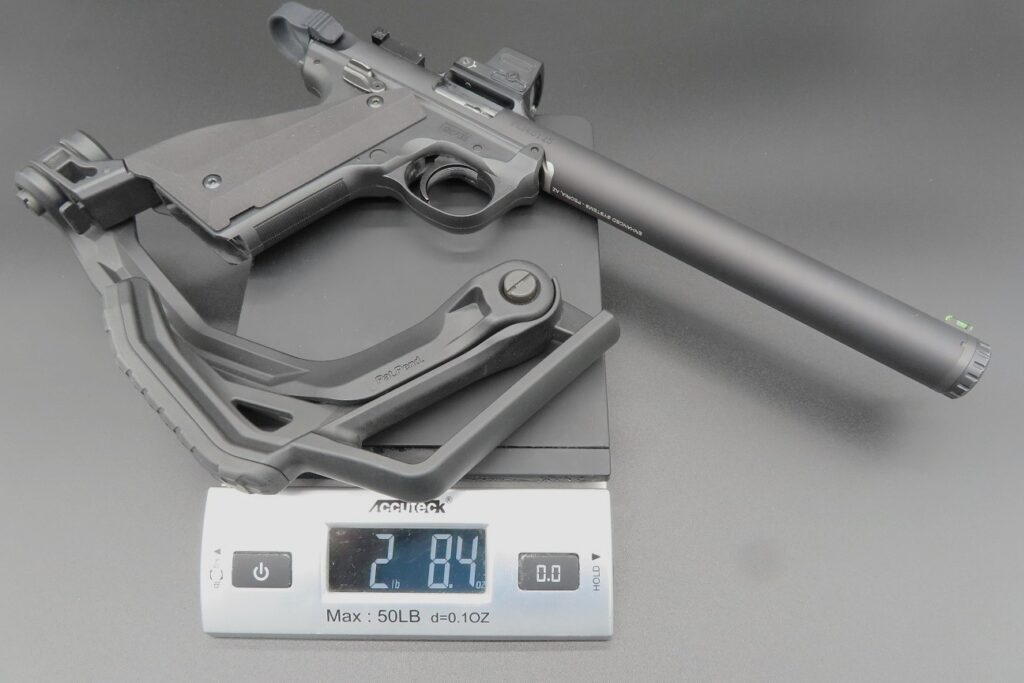 Inspiration for the Sidewinder
          The Enhanced Systems team set out with a straightforward goal – to develop an ultralight survival rifle meeting the demands of firearms enthusiasts and survivalists. They exceeded their objective with the Sidewinder, which takes the 22/45 platform to a new level, offering a lightweight, versatile firearm transforming into a true rifle.


Enhanced Systems Sidewinder grip and charging handle

Tactical Solutions Pac-Lite IV TSS integrally suppressed upper

FAB Defense Cobra stock

Stock Ruger Mark 4 internals and bolt

2x 10-round Ruger magazines

Original Ruger clamshell case, documentation, and accessories

Osprey Daylite Daypack in black

Enhanced Systems logo tee (black, sized large)

Enhanced Systems multicam trucker hat

Additionally, buyers can add an optic and optic mount and upgrade to Volquartsen internals and bolt for improved performance.
          The 22/45 platform offers a compelling choice for a survival gun due to its versatility, lightweight, and adaptability. The combination of the .22lr cartridge's benefits with the customization potential of the platform allows users to create a firearm tailored to their specific needs and requirements in a survival situation.
           The lightweight and compact nature of the 22/45 platform is ideal for survival situations, as every ounce of gear matters. Its size allows for easier storage and transport in a bug-out bag or backpack. One of the platform's standout features is its adaptability, which enables users to modify and upgrade their firearms to better suit their needs.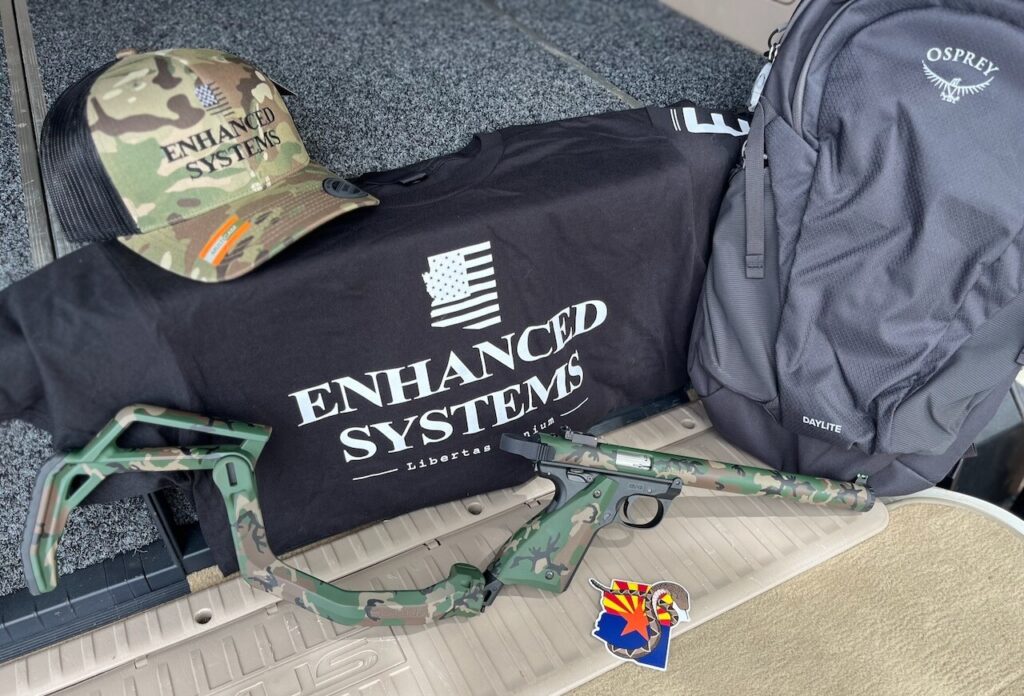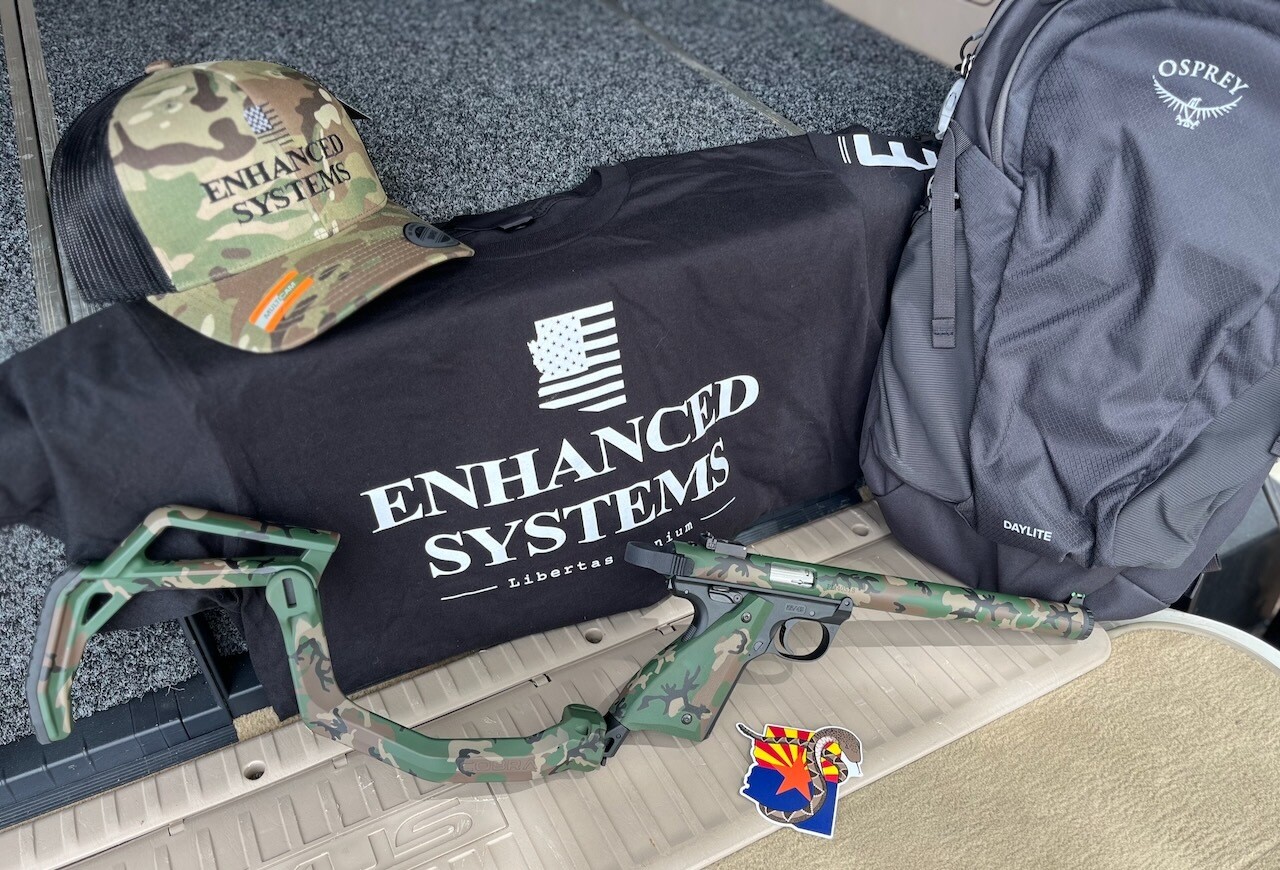 Some Legal Considerations:
          The Enhanced Systems Ultralight Survival Rifle is a two-tax stamp NFA item. Buyers are responsible for paying associated tax stamps separately. The receiving FFL must carry an SOT, and no refunds are available for any reason on NFA item purchases. Buyers must be aware of and follow all state and federal firearms laws applicable to this particular firearm.


          However, you can also bring your own 22/45 host, add the Enhanced Systems Sidewinder grip, file a Form 1, and then add the stock. This option offers greater flexibility for those who already own a compatible firearm and want to upgrade it with the Sidewinder system.


          The ability to build a Sidewinder on your own 22/45 host utilizing a Form 1 is a huge advantage. Here are some potential benefits of going the Form 1 route:


          Cost: One benefit of using a Form 1 is the potential cost savings. Modifying an existing pistol into an SBR can be less expensive than purchasing a pre-manufactured firearm requiring one or more stamps. Additionally, if you already own a pistol that you are considering modifying, you can potentially save money by avoiding the cost of purchasing a new firearm altogether.


          Personalization: By using a Form 1 to modify an existing firearm into an SBR, you have the opportunity to create a personalized firearm that reflects your unique style and preferences. Having the firearm in your possession while waiting for approval not only allows you to have fun with it at the range, but you may also be able to kill two birds with one stone by sending it in for non-nfa modifications and upgrades while waiting for your tax stamp.  This can create a sense of ownership and pride in the firearm that you may not experience with a pre-manufactured SBR.


          Faster processing time: The processing time for a Form 1 application is generally faster than for a Form 4 application. This means that you may be able to make your final modifications to the firearm more quickly if you choose to modify an existing weapon as opposed to purchasing one using a Form 4 that has already been modified.
M81 Woodland Launch Edition:
          While building a Sidewinder on a Form 1 certainly has it's benefits, you may not want to miss out on Enhanced Systems Launch Edition of the Sidewinder. Enhanced Systems is offering a special M81 Woodland Launch Edition package to celebrate the rifle's launch. The limited-edition bundle includes an Osprey Daylite Daypack in black, a multicam trucker hat, and an ES logo shirt in black (size Large only) for outdoor adventures and protection of your limited-edition purchase.
          The Sidewinder, a groundbreaking ultralight survival rifle, is the result of years of experimentation and research by Josh Supnick and the Enhanced Systems team. Focusing on weight reduction and adaptability, this rifle is a game-changing addition to the world of .22lr survival rifles, offering customizable options and a limited-edition launch bundle. It combines the best features of various platforms to create a lightweight, reliable, and customizable firearm perfect for hunting, target shooting, and general outdoor use. Plus, it's hella cool.