Over the last 20 years America has experienced a surge in firearm purchases and first time gun owners. In fact, nearly every year since our government failed to renew the Clinton-era assault weapons ban has continuously been touted as a record year for gun sales .
However, 2020 has been the undisputed champ when it comes to new gun owners. The pandemic, coupled with bouts of civil unrest, has brought an untold number of new people into the ranks of us proud gun owners.

Here is some advice we've assembled from the Pro's.
Think About Your Reason Behind Buying A Gun
First, start with the "why". There is no "one gun fits all", so it is important for you to take into consideration why you're buying the gun to begin with.
Are you looking for something for home defense? Do you want something you can carry on a daily basis? Looking to have something to take to the range and shoot a few targets? Or, perhaps you're looking for something for all three.
In any scenario, handguns and shotguns are where most beginners gravitate. However, studies have shown that handguns tend to be the most popular. This is likely because of the diverse roles that they are capable of filling.
Decide On How You Want To Carry
Deciding the best way to carry your gun is a crucial and deciding aspect of owning a firearm, especially when it comes down to gun selection.
If you plan on carrying in an ankle holster, you'll want a smaller gun than you might want for a shoulder holsters.
Keep in mind, if you want to carry concealed, your wardrobe will play a large role in what the best method of carry is.
A great way to find out which method is right for you, is to talk to one of the friendly experts at GALCO HOLSTERS.
Decide On What You Want To Spend
It should go without saying but, if you are buying a gun, you've accepted on some level that you may need to use it some day.

The old adage of "you get what you pay for" can be doubly true for guns. Needless to say, you don't want to skimp.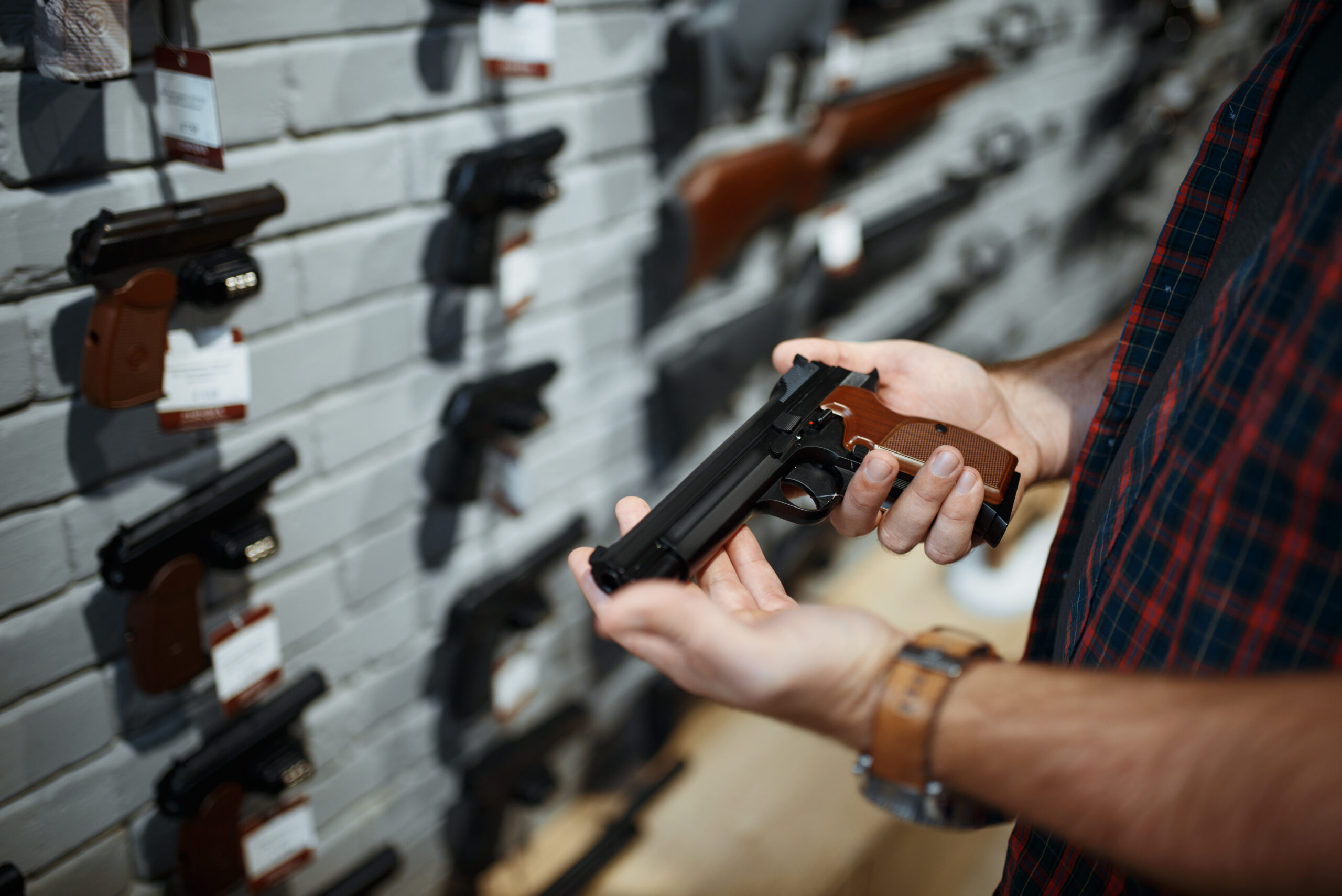 Read Some Reviews On Popular Models

Once you know how much you can afford, it's time to take a look at what falls in your budget. With hundreds of guns in every price range, you may find yourself getting overwhelmed.

Youtube and firearms related blogs can be a good way to find some reviews and comparisons on popular models in your price range!
Take A Course
You thought you were done with school? Think again.

The absolute key to safe and responsible firearm ownership is to take some courses.

If you're an absolute beginner, check with your local shops and gun ranges to see if they offer a beginners safety course. Then, follow that up with a concealed carry course to learn important gun laws in your state.

Don't forget to make sure your instructor is NRA certified!
Purchase A Safe Place To Store Your Firearm
If you have young children in your home, this is a MUST.

While ever gun comes with a gun lock, by law, you may want to check in to getting something that is quicker for you to gain access to – but more secure than the standard "cheap-o" lock your firearm came with.
Look Into A Good Holster
This goes back to #2, but, it bears repeating.

A good holster can make all of the difference when it comes down to carrying your firearm daily.

Even if you choose to not carry your firearm daily (not what we recommend, a good holster is a sound investment.

We recommend GALCO HOLSTERS.